We would like to invite you to join us at the Colégio Almada Negreiros from 3rd to 5th May for the International Conference, Nova Contemporary Music Meeting.
If you are unable to attend in person, we recommend that you follow the sessions via our YouTube channels.
For the sessions on Rooms CAN 223 and CAN 217:
https://www.youtube.com/@NovaContemporaryMusicMeeting/
For the sessions on Room CAN 219:
https://www.youtube.com/@laboratoriocesem5751/
Furthermore, we would like to extend an invitation for you to attend our cultural events, which will feature a presentation of György Ligeti's Symphonic Poem in the Fencing Room at Almada Negreiros College on May 3rd at 6pm, as well as an organ recital on May 4th at 8pm in the Parish Church of Nossa Senhora da Ajuda.
These events will not be streamed.
We hope to see you there!
We would like to express our gratitude to the institutions and individuals who collaborated in the realization of the symphonic poem by lending their metronomes.
Thank you for your contribution to the success of the project.
We celebrate Ligeti's centenary with the Symphonic Poem for 100 metronomes, and a concert with works for organ.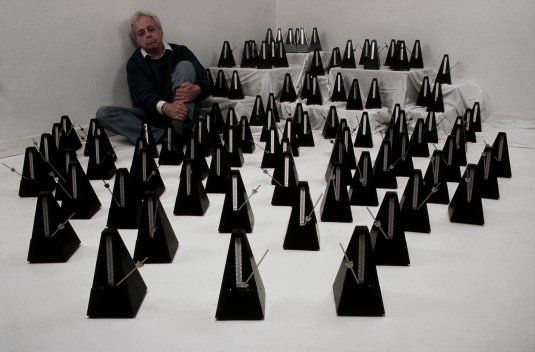 Call for papers for the NOVA Contemporary Music Meeting International Conference, to take place in from 3 to 5 May 2023, under the subject main subject Listening to today's music.
Within a performative perspective, today we encounter more and more new listening situations. Actively participating in music events and multisensory performances, audiences and performers are today more and more engaged with innovative auditory experiences which can be multimodal, virtual and immersive. How do listening modalities make an impact on the appreciation of a musical piece? How much is the listening process affected, or otherwise constrained, by the listening context? What is the role of music listening in a museum exhibition, a sound installation, or sound art event? What is the purpose and the potential of listening to music in public/open spaces? It is within the context of this complex problem that we encourage composers, musicologists, performers, teachers, philosophers and other researchers to present proposals covering the whole range of questions involved in this subject. Students, post-doctoral, and early-career researchers are particularly encouraged.
PDF Version is available HERE.